Emergency Warning Systems
Emergency Warning Systems
Natural and man-made disasters are not easily predicted, so it's very important that people take steps to become prepared for an emergency today. One of those steps is learning how you will be notified of protective actions to be taken in an emergency.
Warning the public in the event of an emergency is one of the key functions of Tooele County Emergency Management (TCEM). The timely notification of an impending threat or danger may help people take life-saving actions and may mitigate widespread injuries. The emergency warning systems are a crucial element in Tooele County's Emergency Plans.
There are several ways you may be informed of an emergency. They include, but aren't limited to, the Emergency Alert System (on radio and TV); the Outdoor Warning System (sirens and highway message boards); and the Indoor Warning System (tone alert radios).
Tooele County has Tooele Alerts which is a notification system that you can receive in multiple ways (Text, email, and phone). You can be notified of possible county wide events such as weather events down to very local possible neighborhood incidents such as large police presence or wildfire. Sign up today to make sure you are kept informed. Click the Button Below.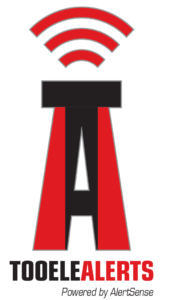 Emergency Alert System

The Emergency Alert System, or EAS, is the fastest and most effective way to warn the public of an emergency. The EAS is the successor to the Emergency Broadcast System (EBS), which began in 1964. It was upgraded in 1997 to include digital communications and automation technology, and to eliminate several problems that developed with the EBS.
Now the EAS can be activated by a government authority by simply sending a radio signal with digital headers that contain the type of warning, the areas involved, and the issuing authority, as well as the entire emergency message for the public. The Federal Communications Commission mandates that the EAS is only for WARNING of an imminent threat to life or property.
The primary EAS radio station for Tooele County is KSL 1160AM, and 102.7FM; the secondary station is KWDZ 910AM. If the Emergency Alert System is activated, other broadcast stations should also pick up the message and begin broadcasting it to the public.
The Emergency Alert System can broadcast much more detailed messages than can be sent out over the Outdoor Warning System.
Outdoor Warning System –Sirens
Tooele County's Outdoor Warning System consists of a network of sirens. It is ready to be used in the event of a hazardous material spill, for natural disasters, or for any other emergency if necessary.
The sirens are an all-hazards warning system. Tooele County emergency authorities can activate the sirens for any reason they deem necessary, such as a severe storm warning, wildfires, or earthquake aftershocks.
The siren system is capable of emitting several different tones. To lesson confusion, Tooele County uses a "whoop whoop" tone for weekly tests and for real emergencies. Emergency Managers have agreed to allow some fire departments to use the sirens to summon firefighters for duty. That tone is different. It's a "wail" tone that sounds like a fire engine siren.
Each siren tone is preceded and followed by a pre-recorded or live message. The messages give brief and concise emergency instructions. The pre-recorded messages include warnings concerning emergency situations to avoid, instructions for evacuating, or instructions for taking shelter-in-place. Once you hear the sirens activated, you should tune to an Emergency Alert System station for further emergency information.
Each siren can be activated individually, in regional groups, or as an entire system. It's imperative that you follow instructions given on the siren which you can hear, immediately and exactly. Tooele County tests the siren system audibly every Wednesday at 4:00pm, and silently at least twice a day.